November 14, 2022
Calling All Canines, Cats & Critters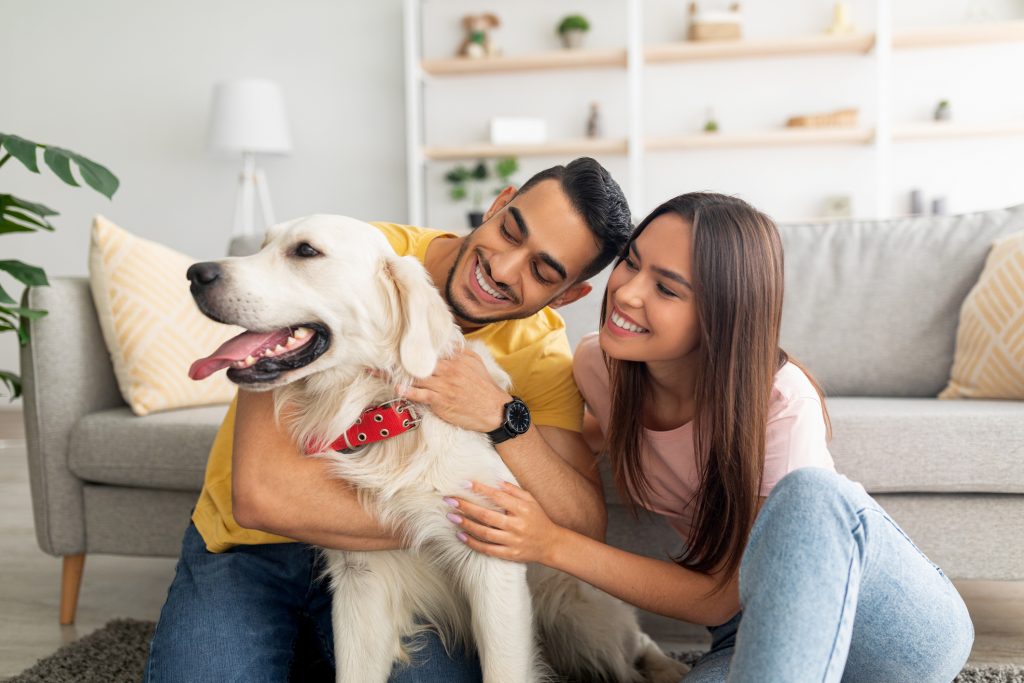 Pets are more than just four legs and fur, they are happiness after a long day at work, comforting cuddles when you're sick, adventure seekers, and providers of endless laughter with their quirky antics. At Compass at The Grove, we understand that pets are valued family members and strive to provide the same amenity-rich lifestyle for them as our human residents both within the residence and throughout Newark, DE.
Bring a ball or favorite squeaky toy and let your pooch enjoy a space of their own. Both owners and pups will enjoy the Bark Park at Compass at The Grove, an on-site area for dogs to get their energy out and meet fellow neighbors and play pals. Explore the beautifully landscaped green space surrounding the community including the community green and event space at The Grove or stroll around the 1.5 miles of pet-friendly trails and paths.
Back inside, stop by the front desk and grab a treat before heading to the on-site pet grooming facility. Grooming is important to canine health and care, so say goodbye to those muddy paws as your pet enjoys some bubbles and a relaxing pamper session.
After a busy morning of play and pampering, we know your pal will be more than ready for some downtime. Canines, and kitties, will enjoy the spacious Compass at The Grove apartments flooded with natural light. You'll be sure to find them relaxing nestled near a window or sprawled out sunbathing in their new favorite carpeted corner.
Rested and rejuvenated, grab those leashes and head out to explore all the possibilities of Newark, DE and its fido-friendly atmosphere. Downtown is the perfect place to experience an eclectic food scene, and there are plenty of eateries where you can pull up a chair on the outside patio to eat, drink, and be merry with human and furry pals alike. Grain Craft Bar + Kitchen and Deer Park Tavern are two of our favorite pet-friendly patios.
Looking for some droolworthy treats just for your pup? Visit (or order online) Waggies by Maggie & Friends in Wilmington, DE. These treats are made with ingredients such as sweet potato, whole-wheat flour, peanut butter, and chicken broth. Plus, the Waggies organization actively celebrates the community by employing persons with intellectual disabilities, empowering them to be successful, and celebrating their work.
As much as you adore your pet, we understand that life happens, and occasionally an extra set of hands (or watchful eyes) is needed. If your pup is full of energy, or needs a little extra stimulation so they don't take their boredom out on your new kitchen cabinets, Camp Bow Wow offers everything from doggie daycare to training classes. You can even watch your dog romp and play on their live webcams.
Content Critter is another pet care service located in Newark, DE, providing extra walks and cuddles to dogs, cats, and a variety of small animals. If you would prefer that your pet be cared for in your own home during the day or overnight, Content Critter will accommodate with services ranging from a mid-day potty break to an overnight pajama party.
Are you finding yourself ready take the plunge into pet ownership or looking to expand to your current fuzzy family? Consider adopting from one of the nearby Newark animal shelters, Fur-Ever Paws or Humane Animal Partners of Delaware, where dozens of adorable dogs and cats are waiting for their forever families and a lifetime of cuddles.
Now, raise your paws and wag your tails if you're ready to experience living in luxury at Compass at The Grove.